Japan is the poster child for Keynesian economics.
Ever since a bubble popped about 25 years ago, Japanese politician have adopted one so-called stimulus scheme after another.
Lots of additional government spending. Plenty of gimmicky tax cuts. All of which were designed according to the Keynesian theory that presumes that governments should borrow money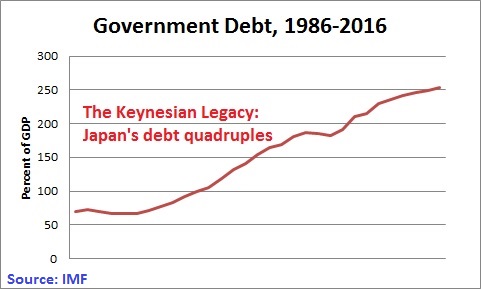 and somehow get those funds into people's pockets so they can buy things and supposedly jump-start the economy.
Japanese politicians were extraordinarily successful, at least at borrowing money. Government debt has quadrupled, jumping to way-beyond-Greece levels of about 250 percent of economic output.
But all this Keynesian stimulus hasn't helped growth.
The lost decade of the 1990s turned into another lost decade and now the nation is mired in another lost decade. This chart from the Heritage Foundation tells you everything you need to know about what happens when a country listens to people like…
View original post 566 more words